Special Thanks to our Title Sponsor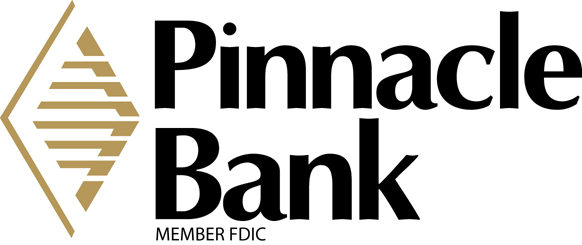 About Pinnacle Bank
Pinnacle Bank is a community bank that was founded by George and Tom Dinsdale in Palmer, Nebraska in 1938. Roy and Jack, George's sons, began to expand the bank in 1959 when they purchased a second bank in Neligh. Roy and Jack continued to expand and run the bank for several years before the next generation continued the legacy. Roy still stays involved to this day and serves on several boards. Today, Pinnacle Bank provides services for a broad range of commercial, individual and agricultural customers. Throughout the communities they serve, they are known for their strength, stability, service and values. They take care of their customers by focusing on building genuine relationships.
Pinnacle Bank has continued to grow under the Dinsdale family and in the establishment of Pinnacle Bancorp. Over the years, Pinnacle Bancorp has developed into a $10.4 billion holding company with 151 community banks in seven states, including 64 locations across Nebraska in 36 communities. The second, third and fourth generations of Dinsdale's have active roles in Pinnacle Bancorp. Sid Dinsdale, with the company since 1978, is the Chairman of Pinnacle Bancorp, and Lynn Marchese is the Senior Vice President of Marketing. Helping the Dinsdale's lead the company are Mark Hesser, President of Pinnacle Bancorp, and Marc Hock, Executive Vice President of Pinnacle Bancorp.
Pinnacle Bank, a subsidiary of Pinnacle Bancorp, is dedicated to their customers, as well as the communities where their customers and employees live and work. They give back by donating to various local causes and sponsoring special events. And their employees share this community spirit by volunteering their time as well.
"We are always looking for ways to help our communities and be a good neighbor," Hock said. "Whether it's giving time to a local event, supporting a project in town or donating to a charity, we make it a point to encourage each bank and each employee to be involved."
Pinnacle Bank was presented with a new opportunity in 2016 to support the community with the Pinnacle Bank Championship. This major event will bring the PGA Tour back to Omaha for its second year, July 16-22. Support Nebraska, Inc., a 501(c)(3) foundation developed exclusively in conjunction with the event, will manage and operate the Pinnacle Bank Championship as the tournament host organization, with net proceeds from the event benefitting local charities. Brad Strittmatter, CEO of Olsson Associates serves as president of Support Nebraska along with fellow board members; Matt Dinsdale, Marc Hock, David Honnens, Jeff Jorth, Nick Kelley, Jim Nedrow and Chris Wendlandt.
In the tournaments inaugural year, Support Nebraska donated $25,000 to TeamMates Mentoring program. They have selected TeamMates as the charity partner for the second year as well. In 2018, Support Nebraska would like to be able to donate more to TeamMates with net proceeds from ticket sales and event sponsorships.
Pinnacle Bank is proud to be part of bringing professional golf back to Omaha and to carry on their tradition of community involvement through charitable giving and local economic support.